IFFO's 60th Annual Conference  started on 24th of October in Lima, the fishing powerhouse of Peru  bringing together over 500 delegates from 35 countries, an all-time record. The Key takeaways from each session are available here.
With a strong sense of commitment, through courageous collaborations, certification and Science Based Targets, the marine ingredients industry is taking a leadership role in pre-competitive collaboration as a powerful means to drive improvements globally. The industry plays a vital part in the discussions that will shape the future: nutrition through blue foods; climate change mitigation; sustainability trade-offs.
It wants to focus on continuous improvement in responsible raw material sourcing, while playing to its strengths: excellent nutrition, low environmental impacts, and resilience, all of these being supported by science. The 2023 IFFO Conference will take place in Cape Town, South Africa.
Key takeaways from Opening Session
The global contribution of marine ingredients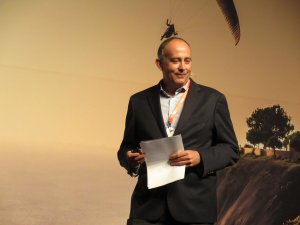 IFFO's President Gonzalo de Romaña opened the event speaking on the vital role of marine ingredients in the global food system. The industry has been supporting the production of food both in terms of quantity and quality, while championing responsible practices. FAO's latest State of the World's aquaculture and Fisheries Report (2022), states that the total production of farmed and wild fish in 2020 was 178 million tonnes. IFFO estimated that in 2020, 35% was tonnage farmed by using compound feed including fishmeal and fish oil. Considering that the average consumption of fish worldwide was reported at 20kg per capita in 2020, 35% of that was produced thanks to fishmeal and fish oil. In other words, 7kg of the 20kg fish per capita consumed in 2020 were farmed using fishmeal and fish oil.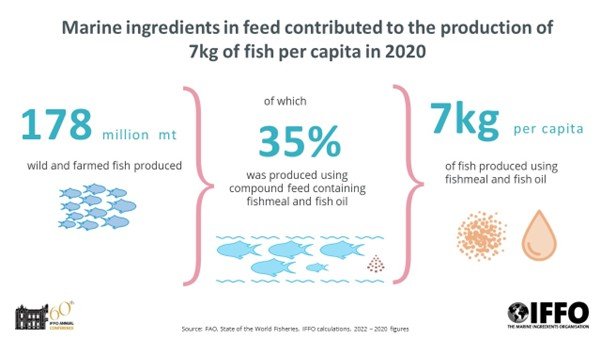 Romaña remarked "This is a tremendous contribution to the production of blue foods and food security in the world at times when it is not only a question of feeding a growing population but nourishing billions with high protein nutrients."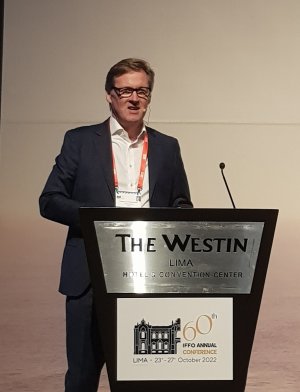 The world needs marine ingredients
IFFO's Director General, Petter Martin Johannessen, noted that "a secure future relies on both nutritious and sustainable foods" and with decades of data, marine ingredients provide a benchmark for aquafeed ingredients for which the performance of other ingredients are measured. The many benefits that these valuable ingredients provide is well known and at IFFO we are extensively exploring their true contribution to the global food security.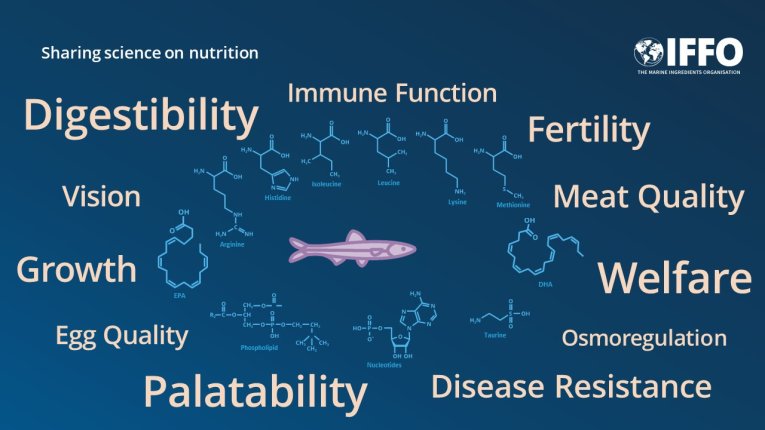 To feed the world, we need to waste less fish, and with 70% of the fish often going to waste, we need to use 100%. The marine ingredients sector provides the market in which fish by-products are put to the most efficient use. Today, 30% of fishmeal and 51% of fish oil are produced from by-products. Indeed, the use of by-products currently represents one of the best bio-circularity stories in terms of capturing the full-value of animal production.
"The increasing availability of sustainable marine ingredients is the only way forward to feed a growing population and more importantly, to nourish it. Quality food requires quality feed."
Understanding this global economic crisis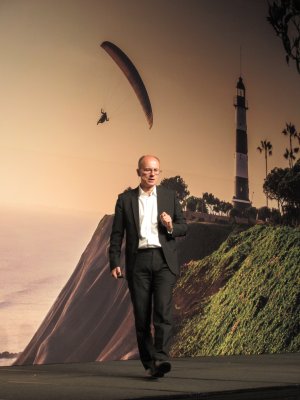 Drawing from his extensive economic expertise, the Economics Editor of the UK's Financial Times presented a sobering overview of many economic challenges facing the world.
Reaching across the globe, we can see that inflation is at its highest in 40 years, the covid crisis and then energy crisis. But this situation is different from previous crises. Country's downturns are not synchronized and contagion between economies is not happening in the same way.
Zooming in on China, aside from Covid, another example of a continuing challenge is with shipping, with 12% of all shipping in China not moving due to bottlenecks, showing that supply chain problems are still present. Over to the US, 70% of economists believe that the US is heading for recession, with a bust after a boom scenario. In the EU, inflation has spread from the gas crisis, but the continent, like the rest of the world, is also being deeply affected by inflated food prices, which is then causing a political crisis. There are however bright spots of growth in India and Latin America, but overall global growth is falling into recession with only a 2% growth expected in 2023.
But it is not all doom and gloom. Europe's gas struggles and price rises have in turn cut demand, increasing reserves and resulting in a more diversified EU energy plan, it will take time. The recession following this is now unlikely to be as bad as predicted. We also now understand what is happening in the global economy, unliked what happened by in 2008 or with covid, we know that we are in the worst part, and the incoming recessions will likely be mild. The EU is managing the gas crisis and then there is always a risk with global interest rates, but they can be reduced again if gone too far.
"If I were to come back this time next year, I believe that the outlook will be a lot brighter than it is right now!" he concluded.
Collaboration as a prerequisite for sustainable development of Blue Foods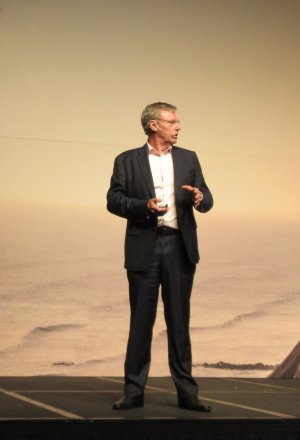 SeaBOS' Managing Director, Martin Exel noted that fisheries are a shared resources and what one group does directly impact another; adding that with no collaboration, sustainability is not possible. Seafood production needs to be both ecologically sustainable and economically sustainable, while building community trust. Sustainable Blue Food production is about people working together to feed our world in a healthy, sustainable, manner. Balancing the needs of society with the health of our land, ocean, and fisheries, is not for the faint-hearted, but positive action can and has occurred in our industry.   
Taking a structured approach, SeaBOS has identified keystone species and keystone actors to drive change, building a science-industry based collaboration stakeholder map. If you can change what their keystone actors do, then you impact the whole industry. But what is the role of marine ingredients in this? Exel called for the industry to be sustainable, responsible, climate positive, innovative; and equitable and ethical to meet society values and expectations of sustainable aquaculture.
To aid this, SeaBOS have developed a collaboration plan, including a toolkit to establish strategies and policies, action-driven measures on IUU fishing and labor abuse towards improvement, and monitoring and reporting towards transformation. Trust is the first point to the build a constructive dialogue for further change. Exel concluded by calling on the industry to be courageous and collaborate for the growth of sustainable and ethical feed production. "The seafood industry cannot thrive on an unsustainable planet, and we will not have a thriving planet with an unsustainable seafood industry."
How to achieve truly sustainable aquaculture, fisheries and value chains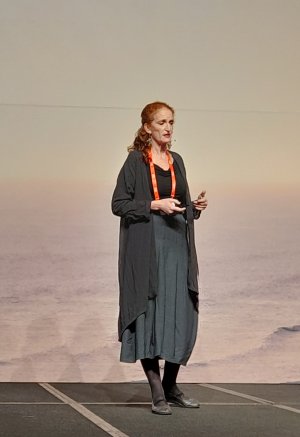 FAO's Stefania Vannuccini outlined a roadmap for the transformation of aquatic food systems. She noted that "food security exists when all people, at all times, have physical, social and economic access to sufficient, safe and nutritious food which meets their dietary needs and food preferences for an active and healthy life."
Fisheries and the aquaculture sector have a key role in food security, providing nutritious food, employment, income and livelihood. As a superfood with an essential top nutritional source, fish provide highly bioavailable proteins and micronutrients. While the large biodiversity of fish allows for better climate adaptation options.
Production has grown to 178 million tonnes of aquatic animals, with growth in capture fisheries due to the success of fisheries management, with 'assessed stocks' improving and rebuilding; and unassessed stocks declining. Fisheries provide 59 million people with employment, with 600 million people depending on the sector. But challenges remain, both with resources and environment, and with socioeconomic and governance. Climate change is an increasing challenge with the maximum catch potential projected to decrease by up to 12% by 2050.
Aquaculture and capture fisheries are expected to grow, driven by both population growth and consumers choosing seafood for health. The use of fishmeal and fish oil in feed is expected to slightly decline, but they will continue to be used as strategic ingredients to improve the overall quality of the aquatic species.
Blue transformation is now under FAO's strategic framework 2022 -2031, which will recognize successes in the sector since the 1995 Code of Conduct in combatting poverty and hunger and go on to identified priority areas to further transform aquatic foods, to develop a new vision for the sector in the 21st century.
Three objectives have been identified for a blue food transformation:
Sustainable aquaculture intensification and expansion satisfies global demand for aquatic foods and distributes benefits equitably
Effective management of all fisheries delivers healthy stocks and secures equitable livelihoods
Upgraded value chains ensure the social, economic and environmental viability of aquatic food systems
Echoing early calls, collaboration was noted as key to this plan's success, with the aim to achieve efficient, inclusive, resilient and sustainable aquatic food systems by 2030.
A prosperous and sustainable future for shrimp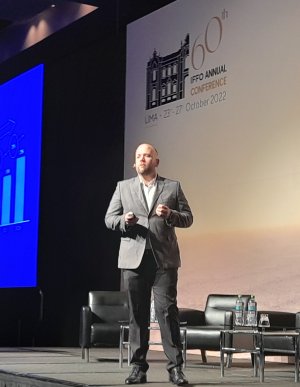 Moving to the shrimp sector, VitaPro's Allan Cooper opened by showing the domination of shrimp and salmon in driving seafood supply growth, recently driven especially by the US market. But it is Ecuador that Cooper noted has been an unexpected success story in the shrimp sector. In 2017 Ecuador was only producing 12% of the global shrimp market, but now produces 24%, increasing by 29% in just the last year. This growth has been driven by a technological revolution, with farmers moving to automatic feeders and integrated production to packaging plants. The goal is to grow sustainably, with marine ingredients playing a critical role in this objective. This industry is also taking off in other countries, again driven by technology.
With traditional feed costs increasing, more affordable options are needed, but alternative ingredients are not yet cost competitive, but this could be reduced through economies of scale. Key focus areas for the industry are to ensure sustainable practices, validate commitment and invest in traceability technologies. And again, the key to all of this is radical collaboration for systemic change towards sustainability.
Salmon: low emission, land efficient and nutritious food source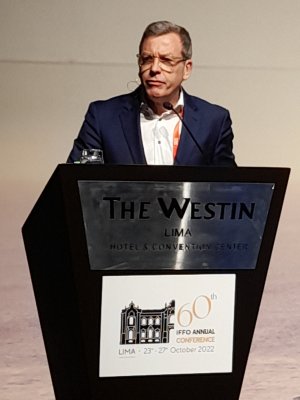 Moving to another dominant sector, that of salmon, Camanchaca's CEO Ricardo García Holtz discussed the sector's trends, opportunities, and challenges. The world has greatly changed in the last 40 years since salmon farming started, with the sector now providing the most nutritious farmed protein. With population growth, we already use 50% of the habitable land on the planet for agriculture and there is no more, unless we want to cut down the remaining forests and convert them to agricultural land. Simply put, 93% of food is produced in 10% of planet's surface. With unhealthy lifestyles increasing mortality, seafood and salmon offer a unique range of health benefits.
Salmon is a low emission food source, requiring less surface area and is more protein efficient than other proteins. The salmon sector has generated socio-economic development in areas where there previously has no industry, with 150,000+ people employment relating to the sector in Chile. Recent trends impacting the sector include consumer changes to eating at home, and sustainable practices increasing financing. Camanchaca was the first company in Chile to have a sustainably linked loan: there is a huge opportunity here to drive sustainable growth. But growth in salmon farming is now flattening, the growth rate is now close to zero, there is demand but with lower production prices are increasing with which have consequences if not changed.
Challenges facing the sector include the global economic slowdown, feed costs, regulations and climate change. Climate change has made ocean conditions unpredictable, increasing costs by 7%. On top of this, feed costs have increased massively, energy costs have increased and regulations remain helpful to the sector.  

Panel Discussion: Marine Ingredients' Role in Global Food Security
Challenges and Opportunies
On 25 October IFFO's Technical Director Brett Glencross opened this session with a quick recap of IFFO's technical and regulatory work. Most notably he covered IFFO's work with the Global Feed Life Cycle Assessment Institute (GFLI) to update global data on marine ingredients. The GFLI has been established to be an independent repository with a freely available database and the marine ingredients data set is currently limited and based on relatively outdated production practices.
LCA: Comparing apples with apples
Starting with feed, Skretting's Global Sustainability Manager Jorge Diaz Salinas presented their latest insights on formulating aquaculture feeds with a life cycle mindset. He noted that aquaculture is the solution to address the triple challenge of population growth, climate change and social impacts. With an expected growth rate of 22% by 2030, more ingredients are needed. While feed also plays a key role in reducing aquaculture's greenhouse gas (GHG) emissions, with 94% of Skretting's total GHG emission coming from feed. Skretting is working with suppliers using Science Based Targets (SBT), towards 2030 reduction commitments. A key aspect of the strategy is understanding which species and feed are suited to specific regions in the world. Marine Ingredients have a larger carbon footprint, but increasing their use could negatively impact fisheries.
Taking a holistic approach, Diaz noted that the industry needs to focus on the complete life cycle rather than single stages, looking at both the environmental and social footprints of their activities. The main challenges in doing this includes ensuring that we are comparing 'apples with apples' and that we know where our ingredients are coming from, increasing the use of primary data rather than secondary data, considering environmental impacts at Scope1, 2 and 3, and dealing with price volatility. Skretting is following the Product Environmental Footprint Category Rules (PEFCR) to ensure consistency of data use, covering all their materials, using an economic allocation approach, and ensuring land use change is considered. But more primary data is needed to improve the accuracy of the data and to allow clearer tracking of potential reductions. Carbon footprint cannot be looked at in isolation, it needs to be viewed in line with many other sustainability indicators, many of which are picked up by the LCA approach. In summary, Skretting's approach is to push towards development of feed with the lowest environmental impact, social impact, and cost. "There can be no sustainability without profitability" said Diaz, noting that sustainability is far more than carbon footprint.
Raising the bar: We need to commit and start using, ESG – feed methodology
Moving further along the value chain, Tor Eirik Homme, the Director Feed and Nutrition at Grieg Seafood, presented the future of feed from a fish farmers perspective. Homme noted that his company is facing the same questions from customers, NGOs and investors, where are the feed ingredients coming from and do you know your supply chain. There are clear challenges now facing the aquaculture industry, from ensuring biodiversity, improving fish health and welfare, circularity of resources, ensuring sustainable feed use, and reducing GHGs.
For fish feed, Homme stated that reducing carbon emissions is a key priority across the feed supply chain, setting science-based targets in line with the Paris agreement, including both your company's operations and your supply chain. Annual reporting is key to ensuring transparency and traceability, there is not enough of either at the moment. Again, accuracy on the primary data is vital to track reductions clearly. Building an ESG model (Environmental – Social and Governance) ensures a risk assessment and company to company approach. Collaboration was again called for to develop a common methodology to assess ESG topics. Regarding alternative feed resources, salmon farming started with fishmeal and fish oil and it is still part of our feed, it is needed, but alternatives are also needed, but they will not outcompete fishmeal and fish oil in terms of nutrition.
There is a future for fishmeal and fish oil as long as it is based on sustainable sources (with a common ESG perspective) and is price competitive. Further improvement is needed in certification, transparency and traceability, labour rights on fishing vessels, and avoiding competition with human food.
Changing the debate on feed
ASC's Director of Standards and Science Michiel Fransen called on the marine ingredient industry to be a leader by 2040. Marine ingredients can be leading in taking ownership, ensuring sustainable supply and setting a global example of how to manage resources for generations to come. Progress has been made, such as with transparency and certification, but more work is needed on transparency and improvements in supply. Transparency underpins the trust of customers, and the trust that their customers have in the product.
Taking a risk management approach, Fransen identified two drivers: supply (stock management and by-products), and the reputation of the industry, especially in comparison to other commodities or alternatives. For stocks, climate change is changing fisheries and dependency on the oceans will only increase, so but the industry can capitalize on the head-start by looking at lessons already learned in fisheries management. Optimising by-product use is also providing opportunities in volumes, but the supplying fishery needs to be sustainably managed.
As an industry, marine ingredients need to message the right audience, taking a B2C approach rather than B2B. ASC is connecting with consumers with the aim to change the public debate, challenging the current discussion on concerns over fisheries and highlighting the balance of alternatives that require land use. If this is it not addressed, industry at the other end of the value chain, who are consumer facing, can either work with marine ingredients or exclude them. The industry has an opportunity to engage the end consumer more.
The public debate needs to be changed by levelling the playing field, addressing all ingredients with equal attention, including all plant ingredients. "Marine ingredients are ahead of the game" he insisted: traceability is just starting and is the answer.
Optimising human nutrition within global constraints
Exploring the role of marine ingredients in nutrition and global food systems, IFFO's Technical Director, Dr Brett Glencross, opened by stating that a secure future relies on both nutritious and sustainable foods. Referring to a recent paper on climate impacts, small pelagic species are identified as top performers in both dimensions for low climate impacts and providing high nutrition, marine ingredients are a superfood generated in a sustainable way. This low carbon footprint is due to the low impact fishing methods used and the utilization of by-products. For nutrition, small pelagics are one of natures best nutrient sources, supporting immune function, growth, brain development and much more along with a high digestibility.
Used as a strategic resource, marine ingredients contribute to providing sustainable nutrients into our food chain, with 1kg of marine ingredient raw material producing 5kg of farmed fish. Over time there has been a marked shift in how these resources are used, from pigs and poultry to aquaculture, which is the most efficient use of this resource making sure we maintain to most direct access to these nutrients other than if we ate them directly ourselves. The specific features of small pelagics make them a unique resource, including their short life span, finite resource base, seasonal harvesting, and exceptional nutritional properties. Ideally we would eat such resources fresh, but those features of the sector (high seasonal volumes and high perishability) make this approach difficult. Increasingly alternative options like freezing and canning are being used to allow direct entry of those resources into the food chain, bit this still cannot take much of the volume. Stabilizing the resource by dehydration allows the best option for enabling the use of this resource and by directing it to sectors like aquaculture it ensures the next best option of supply of those marine nutrients to the global human diet.
Used strategically in feed, fishmeal and fish oil accentuate the palatability of feed, influencing how much the fish eats, which is the first and most important hurdle for feed. Many of the unique nutritional benefits provided by fishmeal and fish oil are shown in the image below.
Delving into the role played by Omega-3's, Glencross noted that they are not all equal, with long-chain omega-3s EPA and DHA working together to support growth, neurological health, eyes (retina), nervous system, cardiovascular system, and maintain normal blood triglyceride levels. Short chain omega-3s (ALA), are from plant sources and do not provide the same health benefits, while also not being converted or inefficiently converted into EPA and DHA. Fish oils contained in fatty fish are the most cost effective way to get essential EPA and DHA. Notably all animals need EPA and DHA in their diets, including humans, and fish oil remains the most effective way to get this into our diet. However human diets have become unbalanced over the last 100 years with typical diets now disproportionality higher in the inflammatory causing omega-6 instead.
Glencross concluded by noting the many benefits for humans, both direct and indirect, from fishmeal and fish oil. As a final conclusion, Glencross quoted the FAO's latest SOFIA 2022 report, "Fishmeal and fish oil are still considered the most nutritious and most digestible ingredients for farmed fish, as well as the major source of omega-3 fatty acids."
Panel Introductions and Discussion: Making the most of byproducts
Glencross was joined by panelists Vincent Percier from Symrise Aqua Feed and Dr Silke Middendorf from Biomega Group. Discussion opened up on the use of palatability enhancers growing over recent years. Percier noted that reasons behind this growth differed between industries. In aquafeed, palatability enhancers are being used more now because of the trend towards lower fishmeal diets as a means to encourage improvements in feed intake, especially at times of change, such as with smolt transfer. In petfood, the palatability story is a little different and has to do with pleasure, it is also a sector where the value is much greater.
When exploring their companies focus on by-products, Percier noted that in aquafeed, cost is crucial and by-products cost less and have the added value of a zero FIFO ratio. He added that their focus on the by-product resource base was on species and not on if they are farmed or caught. Middendorf explained that Biomega focuses on salmon as they believe it is "best in class" in terms of its nutritional composition, with very high levels of various nutrients, like vitamin B12 for humans, and taurine levels for petfood. There is also great opportunity for diversification within the products, extracting products such as collagen (type 1) and gelatin, which have different properties than similar products from the traditional beef and pork sources.